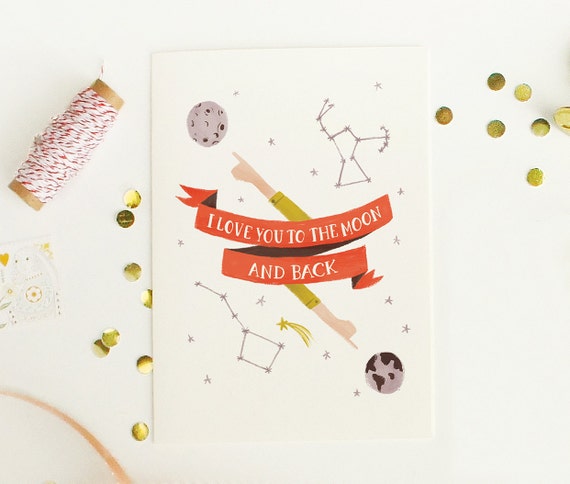 [My 2 favorite inspiration bc I love astronomy! Sources are below]
Friday night, I'm hosting Craft Night at my place for 8 ladies of varying crafting skills. Last time, only 1 person actually crafted while everyone drank wine and chitchatted, so this time, I offered 2 choices - painting Valentine's cards/gifts and making necklaces.
Some Valentine's day inspiration I will have up for the girls (and myself!):
* = easy - ** = medium - *** = difficult, but still do-able
*
Easy
Valentine's day text with flowers - Studio Slo Mo
* If your
Mom
is your Valentine! - Fugu Fugu Press
*
Paint
the background, then write the text - Studio Slo Mo
*
Scattered
Hearts - Shortgrass Designs
* Cute
pattern
, you can write anything - Anemone Letterpress
**
Handmade
stripes - Social Proper
** Cheese
McCheese
Venn Diagram - Anemone Letterpress
*** Assorted
cards
- Rifle Paper Co
***
Watercolor
Hearts - Social Proper
*** More complex bu do-able painting with a
cheeeesy
line - Our Paper Shop
***
Stars
pictured
above
- Quill and Fox, Collen Ellse
P.S. Quill and Fox's aesthetic is uncomfortably similar to Rifle Paper Co.... design theft or no?
Edit: Yas from Quill and Fox emailed me and provided some more information on her design process:
"I've always been inspired by UPA styles and anything reminiscent of Little Golden Book things. I like to channel a lot of Wes Anderson's very straight on art direction most of the time too"
"I wish there some way I can show you how I decide on the colors and what to draw, but a lot of these happen organically and with no calculated copying."
"Rifle and I can easily run into the same images as with any, but what makes it jarring for people is that we also draw kind of the same way."
Not to make a purposely pretentious analogy, but would you think that all impressionist painters copied Monet? Probably not. Anyway, thanks Yas for your sweet emails!